The flagship Muddy Lotus Primary School, founded in 2006, is the first sustainable schoolhouse built in Sierra Leone. In partnership with the Bongema Community, SOSL provides a free and excellent education to 400 students each year.
"As a general rule, teachers teach more by what they are than by what they say."
THE CHILDREN AND EDUCATORS AT MUDDY LOTUS EMBODY S.O.S.L. VALUES
S

pirit
Be your authentic self, bold take risks, and breathe joy into your life, daily.
O

wnership
Own your beliefs, words, and actions, and create the life of your choosing.
S

ensibility
Be mindful of your impact, and thoughtfully build healthy relationships with yourself, with others', and with your environment.
L

eadership
Lead by example, and be an agent of positive transformation in your community and nation.
WHOLISTIC CORE EMPOWERMENT: EDUCATION FROM THE INSIDE OUT
At the center of Muddy Lotus is the underlying objective for every student to have a strong, proactive, and healthy sense of self. At Muddy Lotus we believe that a genuine and positive transformation begins from the inside out, while empowering each individual at their core.  
To foster each child's self-possession, confidence, and authentic identities, Muddy Lotus provides social and emotional skills instruction that builds upon each academic year. The school's core values and focus on wholistic empowerment is infused in the fibers of Muddy Lotus and in the everyday school rituals.
A wholistic education at Muddy Lotus includes meditation…mind-body awareness exercises…relaxation techniques…and end-of-day personal reflection…
As children progress through the different levels of their education, their understanding of our core values grows in complexity, and our students gradually transition toward assuming greater levels of responsibility and ownership over their schooling experience. 
FAMILY ENGAGEMENT AND NON-CORPORAL PUNISHMENT
We have an open-door policy with our students' family members, who are welcomed to observe classroom instruction and meet with our educators and school leaders. We support a thriving parent teacher association committee, and collaborate with caregivers to promote a strong home-to-school connection that will promote each child's learning and wholistic  development.  
In Sierra Leone, corporal punishment practices are legal and widely practiced in many schools and homes. Muddy Lotus educators prescribe to a zero-tolerance policy for corporal punishment practices within our schools. We also work with families to educate caregivers on positive behavior management, and forms of discipline that foster relationships built on trust and mutual respect.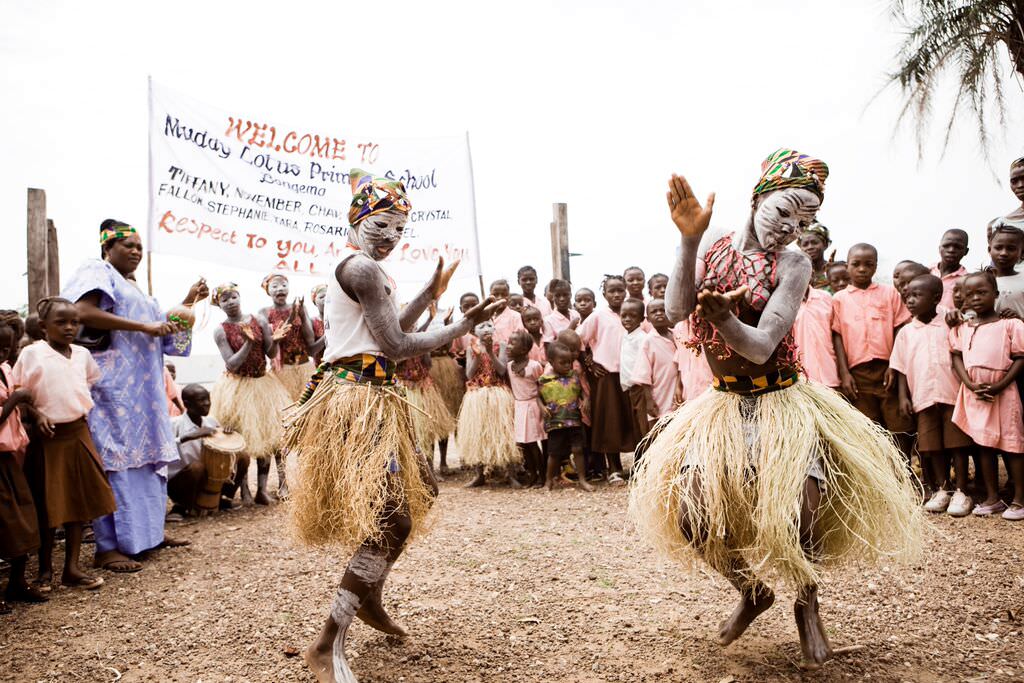 GROWING OUR FLAGSHIP TO PROVIDE A CONTINUOUS NURSURY-GRADE 12 EDUCATION TO OUR STUDENTS AND FAMILIES IN
When Shine On Sierra Leone restarted the Muddy Lotus Primary School in 2006, the school was ranked #736 out of the 736 schools in the entire eastern region of Sierra Leone. In 2015, Muddy Lotus Primary School ranks #2, out of the 736 schools in the region. 
Data shows that as children progress through the school system in Sierra Leone, student academic achievement significantly drops, while student drop out rates grow. However, Shine On is committed to the Bongema community, and are dedicated to build on the investment we made nine years ago–when we founded Muddy Lotus Primary School–and ensuring quality education spanning nursery school through high school. 
0
% PASS RATE
National Primary School Exam
(Year 6)
0
% PASS RATE
Basic Education Certification Exam
(Year 9)
0
% PASS RATE
West African Senior School Certification Exam
(Year 12)
In September 2016, we will begin the expansion of our flagship, with the founding the Muddy Lotus Junior Secondary School. By 2021, our Muddy Lotus flagship will include a primary, junior secondary, and senior secondary school, offering a continuous nursery-through-grade 12 education to over 600 students in the Bongema community. 
Our organization all started with one small school in the Kono district: Muddy Lotus Primary School
The flagship Muddy Lotus Primary School was restarted by Shine On in 2006. In partnership with the Bongema Community, SOSL has provided a free and excellent education to over 400 students each year.  
In 2006, Muddy Lotus Primary School was a school ranked #736 out of #736 primary schools in the eastern region. The school had been abandoned by its founding organization.  Shine On's first project was to transform this school into a vibrant and supportive learning environment for students and teachers. We have transformed this once roofless, dilapidated,  three classroom building into an eight classroom complex! 
However, the true transformation began to happen inside of the school structure… Inside each classroom… Inside the 13 determined educators we hand-picked and developed… Inside each of the students who entered Muddy Lotus every morning.  
At Muddy Lotus, our students and teachers say
10 affirmations every day.
Today is a beautiful day filled with wonderful surprises 
I am grateful for the opportunity to learn
I love my teachers, and my teachers love me
I show my gratitude by being a responsible, kind, and hardworking student
I am becoming a better person, each and every day
I have clean water to drink, clothes to wear, and good food to eat
I play harmoniously with my classmates
I have friends all around the world
Today is a great day, and so it is
What has occurred since this inner transformation, is an outer ripple effect, which has engaged, awakened, and inspired the entire Bongema community, and has transformed the beliefs and actions of our children and their grown-ups, alike. As a result, we are proud to share that our school is currently ranked #2 in the eastern region of Sierra Leone! 
MUDDY LOTUS SECONDARY SCHOOL
In September, 2016, Muddy Lotus Secondary School will open its doors to our inaugural 7th Grade class. Every year, the school will expand by one grade-level, until we reach capacity, educating 180 students from 7th through 12th grade levels. When fully grown, our school will comprise the Junior Secondary School (grades 7 through 9) and the Senior Secondary School (grades 10 through 12). 
A DYNAMIC EDUCATION MODEL DESIGNED FOR FOSTERING INNOVATIVE, THOUGHTFUL, AND SOCIALLY CONSCIOUS SIERRA LEONEANS WHO WILL CREATE THE LIVES OF THEIR CHOOSING AND SHINE THEIR AUTHENTIC LIGHT ON SIERRA LEONE. 
COMPREHENSIVE, PROJECT-BASED ACADEMIA, AND INQUIRY
Each student will partake in an integrated course load that continues Muddy Lotus Primary School's commitment to positive mental blueprinting and producing true academic progress. The school calendar runs for 10 months of every annual year and is comprised of core courses outlined in the Sierra Leonean syllabus, but also will include a unique roster of digital literacy, community-minded entrepreneurship, health education, and mind-body practices. Our educators teach skills and concepts through authentic projects and investigations that provide real-world learning opportunities, and support students in seeing the relevance of new skills and concepts to their current and future lives. Our students will also work collaboratively with one another, and participate in engaging discussions, that push students to think critically and creatively. 
EMPOWERING VOICE, AGENCY, AND GROWTH MINDSETS
Our students develop their individual opinions and perspectives, as they synthesize new information they learn about the world and are exposed to diverse points of view through a range of mediums: classroom discussions and instruction, readings of texts, web-based research, and media. We believe that each student's lived experience and unique story is significant, and we work to provide students with the tools and platforms to communicate their ideas, experiences, and personal narratives.
Students are empowered to make their own decisions regarding their learning regularly, including the option of attending extra tutorial classes, as well as independent topics for inquiry, and self-guided learning. We support our students in advocating for themselves and their needs, such as ways of asking for teachers for extra help, or expressing concerns in healthy and productive ways.
Over the course of their secondary schooling, students assume greater responsibility over their learning and schooling experience. We guide our young adults in growing their abilities to self-monitor their metacognitive processes, effort, and the quality of the work they produce. Their self-reflections and evaluations of their work are incorporated into final project and participation grades. Consistent with our belief in supporting growth mindsets, students are encouraged to track their own academic growth, the progress they make toward achieving goals, and are given the opportunities to rewrite exams and revise their assignments. 
ENTREPRENEURSHIP AND COMMUNITY ENGAGEMENT
Shine On's core value, sensibility, guides our students to be mindful in their interactions with others', their community, and the environment. All students complete a semester-long community impact project, to fulfill our service learning graduation requirement, through which, students will develop inquiry and leadership skills, and learn the powerful impact they can make in positively transforming their community.
HOLISTIC HEALTHCARE
We will be the first community in all of Sierra Leone to provide and grow herbal holistic healthcare. 
Muddy Lotus is committed to fostering a knowledge of different healthcare options to our students and staff, as well as providing them with access to healthcare. To accomplish this, we're teaming up with suppliers of medicinal herbs and holistic remedies to offer a sustainable ecosystem of plant-based medicine for the Muddy Lotus and general Bongema community. 
ARTS, MUSIC, AND CULTURE
First introduced to the Muddy Lotus Primary School in 2013, the Imagine-Nation Arts program which stimulates student's creative abilities through creative writing, painting, weaving, and drama classes. The secondary arts school will succession the primary school program, and build upon each students learning of- appreciation for- and expression through- the creative arts and Sierra Leonean culture. In addition, the secondary school education will incorporate a participatory and cultural music education program, which will encompass music history, instrument lessons, and learning from guest musicians to expose students to Sierra Leoneans and global music culture.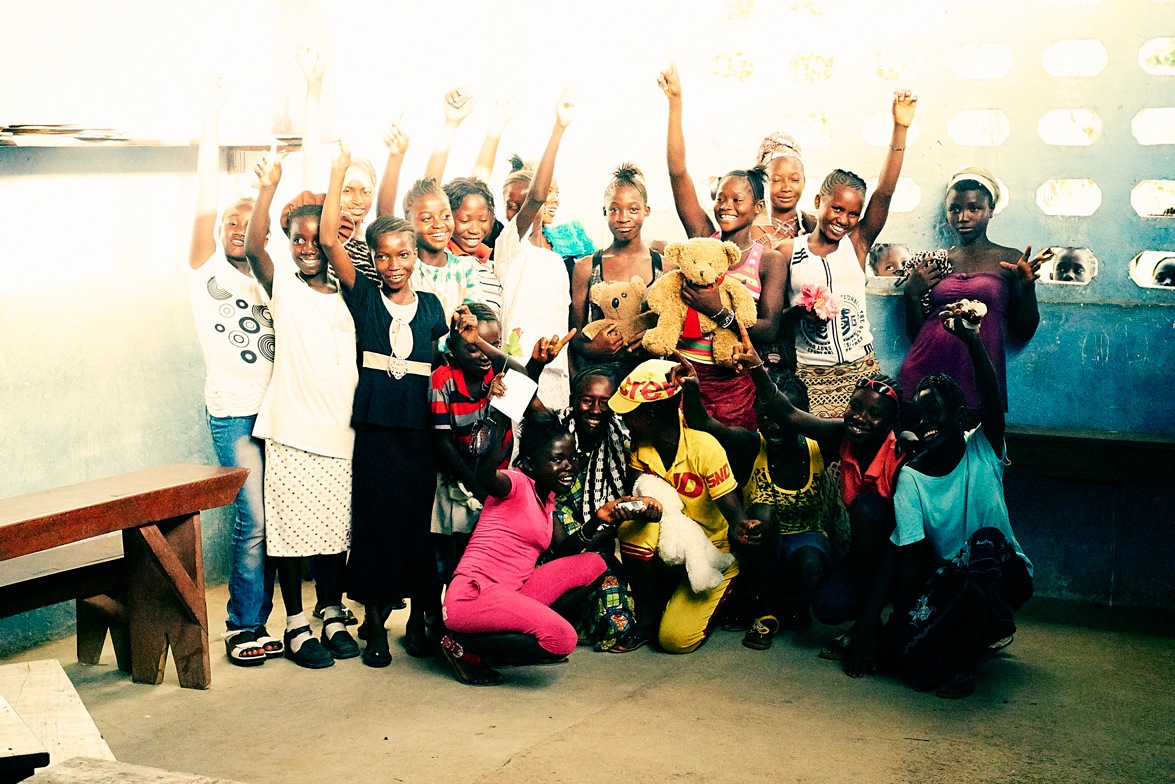 INCREASED ACCESS THROUGH OUR SCHOLARSHIP PROGRAM
Classes at the secondary school will be capped at 30 students. All Muddy Lotus Primary School graduates will have priority enrollment and be awarded full-scholarships to attend the secondary school. All remaining unoccupied student enrollment spaces will be reserved for children who have lost one or more primary caregiver due to the Ebola epidemic. We will partner with Shine On Sierra Leone's Family Support Program to identify scholarship candidates, and guide them through our school application process.  
Among the biggest challenges faced by children who have been orphaned as a result of Ebola in Sierra Leone, is lack of access to education. The Ministry of Social Welfare, Gender and Children's Affairs urges schools and organizations to consider ways of supporting these children in their continued safe, and supportive continuation of education.